How to Choose the Right Dentist for you
A regular dental check-up is extremely important for any individual. It is recommended that a person should have a regular dental visit at least every 6 months or as recommended by the dentist. However hectic a day might be, one should always be punctual when it comes to their oral health. You should visit your dentist if you have pain and swelling in your mouth or if your gums are acting up. At a regular dental check-up, your dentist will first check for cavities. This also includes checking for plaque and tartar on your teeth. Plaque is a clear layer of bacteria which can be easily removed by brushing and flossing. However, tarter cannot be removed at home. Also, it is equally important to know the right way to brush and floss. Your dentist can help you with your daily oral health routine. This is why regular dental check-up is imperative.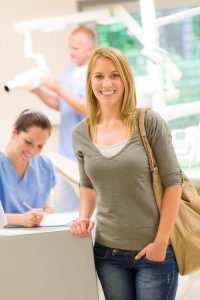 Regular dental check-up and treatments by your dentist can keep you healthy and your teeth and gums clean. It can help in the early diagnosis of tooth decay. Even though it might seem minor at first, tooth decay is not a trivial matter. If your dental infections are not treated on time, they can lead to dangerous cardiovascular diseases. Many people suffer from oral cancer every year, which can be diagnosed early if you keep up with your regular visits to the dentist. When it comes to your oral health, you need to have the best dentist on your side. Below are some tips on how to find the ideal dentist for you.
Recommendation and Referrals
First of all, you should make a detailed list of all the potential dentist that you might visit. You can ask everyone from your family members to your co-workers. Further, consult with your health care providers. Being in the same field, they can recommend the best of the best for your dental health. Take careful consideration of each dentist. How far is their office, how much do they charge, what is their experience, the credentials. Look up all the reviews on customer satisfaction or dissatisfaction. Go through your list and choose the best one for you. Further, call each potential dentist for a consultation appointment. In this way, you can meet and discuss your case and/or your treatment plan. It is also imperative that you are comfortable talking to your dentist. Choose a dentist that listens to you and considers your preferences.
Certificates and Credentials
Even though your dentist has glowing recommendations, it is equally imperative to check if your dentist has required certification. You need to make sure that your dentist has all the necessary skills and training on oral health care. After all, it is your health that will be at risk if something goes wrong. Make sure to check his reviews both online and other sources. You need to confirm that the dentist does not have any history of malpractice or any legal actions. Nowadays, it is very easy to look up the certification of the dentist online on websites. It is better to be on the safe side from the very beginning. Choose the best dentist for your oral health care.
Expertise and Experience
Experience is the key factor in any field and more so in the medical field. When it is the matter of your health, you want it the best person, with a long list of experience, taking care of it. If your dentist has more experience with a certain procedure, naturally they would produce better and better results every time. You can always ask your dentist if they have done a particular procedure before and if they had any complications with the process. Ask them about the number of times they have done it or their rates of success with a particular process. Further, you can follow up on the number of patients who have gone through the same procedure as you are planning to.
Surveys and Satisfactions
To gain a full understanding of your potential dentist, you should review various patient satisfaction surveys. After all, many patients have gone through the same dilemma of choosing the best dentist for their family. Their experience and their rate of satisfaction with a particular dentist will tell you about their experience and skills. It will also help you prepare for any issues that you might have to face. Further, you might also gain insight into how the entire process works out. Through these surveys, you can know about customer service, waiting time and appointment process.
Medical Insurance
At last but not least, you should choose a dentist within your medical insurance plan. Medical insurance planning is significantly important. If you do not choose the right dentist, you might end up paying gap fees and extra charges making your appointment a lot more expensive that it should be.
Follow these guidelines and choose the perfect dentist for your oral health care. The location of the dentist should be considered as well. Your oral health is not a trivial matter. Choose the right dentist and ensure they do all on 4 dental implants as well as procelain  Veneer procedures in case you need these at some time.