Sydney based Aussie Demo Confirmed in an exclusive interview with Eleven Media that there continues to be strong demand for their demolition services in Sydney.
Clyde, Australia – February 19, 2019 /Eleven Media
Aussie Demo is a leading residential and commercial demolition contractor in Sydney with their extensive experience ranging from single level residential homes right through to large multi-level commercial structures. They have a very good understanding of how Sydney buildings are constructed. For years, we have worked closely alongside builders, architects and engineers to make sure that structural integrity of the building is maintained at all times during the demolition process.
Mr Alex Pecherskiy, Founder of Aussie Demo, in an interview with Eleven Media said, "Sydney has been experiencing post the GFC a strong property market and this has seen the strong demand for demolition services as developers remove old building to make way for new complexes to meet this demand. It is only to be expected that property prices will stabilize, as they have done over the past year, but we see no decrease in demolition work in the foreseeable future given the continuing strong demand for our services that we are still seeing."
Eleven Media's investigations also confirm these comments with numerous large buildings still ear tagged to come down buildings to come down. These include the recently announced Government projects that see the Powerhouse Museum and Sydney's Allianz Stadium complex to soon see the wrecking ball in coming months.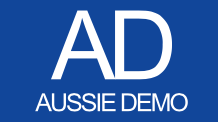 About Aussie Demo
Aussie Demo provides a quality demolition and asbestos removal service to Residential, Industrial and Commercial Demolition Sydney clients.  They undertake work from small domestic demolition projects and asbestos removal contracts, to large industrial and commercial demolition work.
Aussie Demo are fully licensed with WorkCover NSW for demolition and asbestos removal. They hold current Workers Compensation and Public Liability Insurance with the added coverage for asbestos.
All Aussie Demo staff are trained and accredited in the safe removal of Asbestos and the company is registered with the Department Of Environment and Climate Change for the tracking and transportation of it.
At all times a WorkCover NSW accredited and approved Demolition Supervisor is on site during the demolition and asbestos removal process.
Call today for a free quotation on the demolition or asbestos removal work needed to be done for your project. No job is too big or too small.
To learn more about Aussie Demo and their range of residential and commercial services, visit the website here: http://aussiedemo.com.au/
Contact Info:
Name: Mr Alex Pecherskiy
Organization: Aussie Demo
Address: 50 George St Clyde, Clyde, NSW 2142, Australia