Family owned Western Sydney Shutters launched today their New Year promotional offer on their polymer range of plantation shutters for $289 per square meter including installation.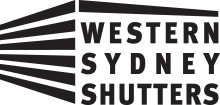 Western Sydney Shutters offers a large selection of plantation shutters including the extremely durable polymer range, which comes with a 30 Year Warranty. Aluminum cores with UV inhibitors will not absorb moisture, delaminate, split, crack. 
Mr Colby Campbell, Principal of Western Sydney Shutters said, "Given the durability of the plantation shutters they are excellent for kitchens, bathrooms and are impervious to damp all while being easy to clean. These not only look great in any home but are extremely functional in dealing with the strong sun conditions we experience in Sydney." 
Here are some of the specifications for the polymer range of plantation shutters: 
+ Shutters can be controlled using a hidden tilt rod. Café style, Bi-fold and Sliding systems or Bay window designs. 
+ Style options: 50.8mm. Colonial. 
+ Frame options:  Flat frame, Bullnose frame, R frame, Z frame, Décor frame. Beaded frame. 
+ Blade options: 63, 89, 114mm 
+ 180 Degree blade rotation (single or 2-way closure) 
+ Variation from standard can be done for an additional charge. 
The once only offer is for a limited time only and will cease being offered on 30th January 2019. Some terms and conditions apply. 
About Western Sydney Shutters  
Western Sydney Shutters is a family owned and operated business with over a decade of industry experience. They have worked not only on the installation side, but the manufacturing side of plantation shutters.  
Given this knowledge They know what it takes to produce a product that will serve the life of your home. Knowing what timbers to use, given they have different thermal properties, and knowing where to use them is their specialty. 
There is a lot of products that look the part, but when put to the test, will fail. Western Sydney Shutters finished products bring class and elegance to any setting, all while adding value to your home.  
Areas serviced include Penrith, Blue Mountains, Richmond, narellan, Campbelltown, Liverpool, Parramatta, Blacktown, Inner West, North Sydney, South Sydney, Western Suburbs and the Sydney CBD. 
To learn more about Western Sydney Shutters and their New Year promotional offer, visit their website here: https://www.westernsydneyshutters.com.au 
Media Contact 
Colby Cambell 
Company:  Western Sydney Shutters 
Website:  https://www.westernsydneyshutters.com.au 
Email:  sales@ westernsydneyshutters.com.au 
Phone:  +61 047423847