So, the Eleven Media team went to a recent wedding and loved the photo booth experience. So, we thought if you're going to use a photo booth, don't waste it by failing to plan for success.  Here are some ideas and insights that can guide you to creating that special experience for your event guests:
Effectively planning an event for your client means you must anticipate and oversee their expectations. A photo booth is a fun way to keep a section of the guests entertained. However, crowds can be unpredictable. So do not assume every person will jump at the chance to use your photo booth.  Some will need a lot of breathing room to get their party hat on and participate. Keep your eyes peeled for the social ones who love being in front of a camera and get them talking to others about it.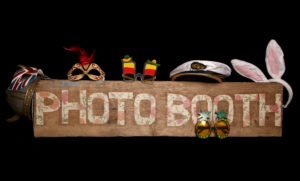 Think about the estimated attendance you expect so you can establish system needs. To ensure all attendees get a 'shot' at the photo boot experience, you may need to order not just one but maybe several units to cope and give everyone a good experience.  How many times have you refrained from visiting a booth because the line was too long?  Instead of laughing and looking and photos being taken, attendees will turn off the idea if they cannot participate due to  long queues.
Seeing is believing. A 'Photo Booth Sign' should be placed in an obvious position. Guests shouldn't be questioning what that booth is all about. There should be no question that a photo booth is available and is free for all to use.  Keeping the booth within the event space is essential, as an isolated location can kill the photo booth experience simply because it may not be found easily.
Having said the booth needs to be prominent, its not a good idea to position it near an access door.  People have two things in mind when they are by the door – coming or going.  So, you're either preventing them from getting in and checking out, either way, sitting the booth up by an entrance or exit can end up being an unwanted obstruction.
Draw attention to your booth.  Create backgrounds that grab attention with a visual feast to catch peoples eyes and good lighting will help achieve this.  The area should be shouting to everyone, "Fun happens here!"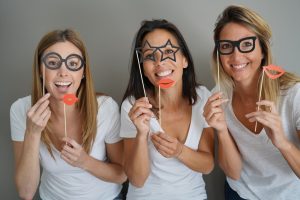 People love props! Fill your photo booth with them.  Branded, event-themed, specialty props.  Be goofy.  Be clever.  Be creative.  Props help people relax and inspire engagement. If your event is a corporate function, this is the perfect opportunity to get your brand shared on social media if your props are branded liberally with the corporate name & logo.
What's on the run programme?  Whatever it is, make sure to build in plenty of time that may need group use of the booth's to allow plenty of time for attendees to take full advantage of having creative photo focused fun.  This is another way to manage the lines to the booths from reaching the point that 'photo booth experience' loses its appeal.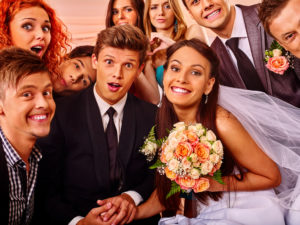 As mentioned earlier, the Eleven Media team recently attended a wedding and had a ball in the Celebrate Entertainment photo booth and with the Wedding's Dj was also hired from them. He had great fun encouraging everyone to get their 'wedding photo booth' experience when he could see the line getting short. For more information on the wedding photo booth company event managers use, visit their website here: http://www.celebrateentertainment.com.au/